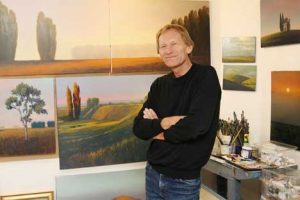 My etchings of classic cars, bicycles, motorcycles, and airplanes draw from my experience both as an illustrator and a young car spotter who would doodle cars on his exercise book at school instead of attending to the lessons at hand. I lived at the time in 1950s England, so my sketches were of Triumphs, the MGs, the Healeys and the Jaguars that I saw almost every day. Once in a while I would see an exotic and foreign Alfa, BMW or Porsche – even a gigantic Hudson or Chrysler.
During the 1960s, I saw the homogenization of the auto industry. Many small independent companies were swallowed up by larger corporations, and along with that, the disappearance
 of unique styling and engineering; giving way to what we have today – a handful if giant manufacturing producing cars barely discernible from each other.
So I refer back to the days when the cars, bikes and planes were very different from each other, when designers were reaching and experimenting, some not successfully, but others producing timeless classics of design. For the most part they were handmade of materials such as wood, leather, brass, hammered sheet metal, with rivets, spoked wheels, gleaming exhaust pipes, huge headlamps, flared fenders, running boards, split windscreens, and enameled badges with mascots riding ahead of the radiator caps. They may not have been so silky smooth, seamless and reliable as today's mass manufactured car, but they made up for it by having immense character and charm… something hard to find. Today.