HAND-TURNED WOODEN BOWLS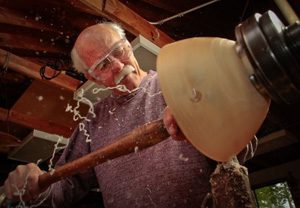 Jerry Kermode is a full time artist working out of his home studio in Sebastopol, California, with his partner and wife, Deborah.
An early fascination with form and function began during childhood summers in Huntington Beach, California, where Jerry began surfing at the age of eight. There he constructed small boats to skim in tidal flats and surf small waves. He has built upon this early interest throughout his life as he shaped surfboards, boats, world-class sailboard centerboards and houses, bringing forms from the sea to play in his work.
During the early 1970's Jerry began incorporating his fascination with turning into his work while specializing in Victorian restoration and boat work in Santa Cruz, California. In 1978 Jerry and Deborah moved to Hawai'i, where they continued their woodworking and remodeling business together while raising their son, Walker, and enjoying the openness of beach and sea at their feet. In 1984 Jerry began turning bowls from freshly harvested Hawaiian trees, becoming a full time turner in 1991. The bowl, or as it is called in Hawai'i – the calabash – caught Jerry's attention when a neighbor introduced him to native woods. The cherished calabash culture in the Islands was the perfect place to nurture his new passion.
Jerry and Deborah have developed their love of native woods and turning into a full time business. Jerry's vessels are available nationally and he has become a much sought after teacher. Deborah administrates their company, which now includes her own business, Creating Financial Clarity, offering assistance in the business of art.
In the summer of 2000 Jerry and Deborah came home to the cooler climate of Northern California, but this did not stop them from continuing their love affair with the sea and outdoors. Both can be seen zipping across Bodega Bay on their sailboards and Jerry is an avid surfer and mountain biker. Jerry plays guitar and sings, while Deborah practices yoga, and enjoys writing and working in her yard. Son Walker has grown up, moved to Ashland, Oregon, married and become a professional bassoonist and middle school music teacher. He still surfs, windsurfs, bikes and skis. They all remain best of friends.
From Burl to Bowl: Turning Wood Vessels with Jerry Kermode