MARITIME ARTIST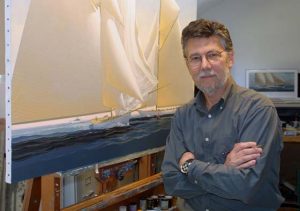 Firmly established as one of the world's premier marine painters, John MeCray's paintings and limited edition prints have earned him an international reputation for excellence. MeCray grew up in Cape May, New Jersey, one block away from the Atlantic Ocean. Upon completing high school, he was accepted at the Philadelphia College of Art where he majored in illustration and painting. MeCray's career as a freelance illustrator began even before his graduation in 1961. The following year he was asked back to his alma mater to teach a weekly drawing class.
In 1976, after his third offshore sailing trip to the Virgin Islands, he gave up his successful Philadelphia based illustration career and moved to Newport, Rhode Island to fully devote himself to marine painting. Offshore yacht deliveries between New England, Bermuda, and the Caribbean have given the artist a personal knowledge of the effects of wind, sea and light on a variety of sailing vessels. His masterful paintings of classic racing yachts clearly convey their power and grace. Experience, perspective and passion for maritime art set his work apart in a field known for richness in tradition.
A deep interest in yachting led MeCray to establish The Museum of Yachting and its annual Classic Yacht Regatta in Newport. He went on to become a founder and trustee of the International Yacht Restoration School, where his focus is on the restoration of the nation's most historic yacht, the Schooner Yacht Coronet. MeCray is also a member of the Mystic Seaport Museum's Yachting Committee, the New York Yacht Club, the Fort Worth Boat Club, the National Maritime Historical Society, the National Trust for Historic Preservation and the Herreshoff Marine Museum.
Since 1976 John MeCray's limited edition prints have set very high standards within the art world. Most of the editions published since then are now sold out and have appreciated greatly on the secondary market. His powerful images have provided a new perspective and greater appreciation of the classic racing yachts that are his trademark.