CLAY SCULPTURE ARTIST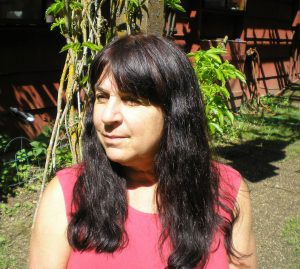 A native San Franciscan, Nancy Y. Adams spent one year studying ceramic technique at City College of San Francisco. After receiving an Associate of Arts Degree in 1969, she went to work, perfecting her craft in various studio spaces, including Ruby O'Burke's workshop in San Francisco. Now living on Sweetwater Ranch in southern Oregon, she combines her art with riding the hills on horseback and organic gardening.
My work reflects a deep and life long involvement with the natural environment. Over many years I've sought to integrate my daily life with nature, offering homage to the animals and plants – celebrating their symbolism as well a their fragility in the face of the encroaching corporate world and the mind-set that goes with it.
Technically, I have perfected an unusual and unique manner of surface treatment. Each piece is wheel-thrown porcelain,  hand-carved and modeled with flora and fauna motifs.  Multiple coats of matt glazes airbrushed onto the ware before then fired to maturity in an oxidation kiln. I like to push the envelope of conventional pottery, stretching out to incorporate the sculptural into bowls, vases and tea sets. It's the making that I love and the interaction with those who appreciate my work.  In the studio, time means nothing, the work is everything.
Save