MARITIME ARTIST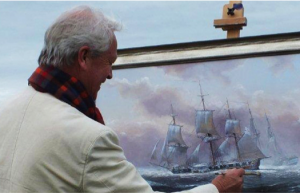 Paul originates from Dartmouth England, a beautiful small port renowned for its historic maritime links where 'tall ships' regularly grace the harbor to this day. His father was a local fisherman and both his father and mother were artistic and thus influenced Paul to seek a seafarer's life and inspire his early artistic awareness. In the mid 1960s Paul's family located to the west coast of Ireland where he observed and visited merchant ships in Sligo port further clinching his desire to join the merchant navy. For ten years from 1974 Paul served as a deck officer on vessels tramping around Northern Europe, the Mediterranean and West Africa.
Throughout history these waters and ports witnessed a myriad of ships and stirring events igniting Paul's awareness and interest in creating historic nautical paintings. By regularly traversing the Atlantic Ocean from Morocco to Norway and all adjoining seas whilst navigating sandbanks, rivers, ports, creeks and rocky headlands Paul gained knowledge that is unique to a marine artist enabling him to portray seas, locations & events with an extra sense of perception and understanding
Paul is a self-taught artist, constantly honing his skills as time and resources allow. Following his career at sea his artistic direction was further enhanced whilst serving as a Prison Officer at Dartmoor Prison in South West England. Here Paul became instrumental in establishing an 'arts and craft' workshop for long term civil prisoners in the 1980s & 90s. Dartmoor Prison was built by French prisoners of war between 1805 and 1809 and later housed up to five thousand American prisoners of war from 1813 to 1815. Paul's paintings and illustrations of this historic prison and events from the Napoleonic period have been incorporated in many publications.In 1995 Paul emigrated to New Zealand becoming a professional marine artists and free-lance writer producing nautical articles, paintings and illustrations which are published in books, journals & magazines in New Zealand, United Kingdom and the U.S. He specializes in maritime paintings of the Napoleonic wars and the age of global expansion and exploration under sail. Paul works from his home studio in Auckland utilizing quality fine art materials. He undertakes private tutoring and regular workshops at his studio and in the wider community.